2021 Summer Golf Lesson Schedule
To register for lessons, please visit the Pro Shop or call us at 708-857-2433

To schedule a private lesson, please call one of the instructors listed below
---
Private Lessons
Instructor: Roy Dombeck, PGA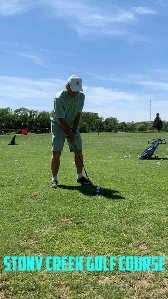 Phone: 847-934-8478 

Roy brings a wealth of knowledge in teaching, club fitting, and tournament competition. As a player, he competed on the Coastal Carolina, Hogan, and Tear Drop Tours. Roy attended the Golf Works Academy and is certified in professional club repair. As an instructor, he worked with the award winning program at the Village Links in Glen Ellyn. His program at Chapel Hill Golf Club in McHenry, IL produced a championship in the IPGA Pro Junior. Most of Roy's teaching techniques and philosophy come from his experiences with the John Jacobs Golf Schools, Dave Pelz Short Game Schools, and Pinehurst Golf Academy.

Private Lesson Rates:
| | |
| --- | --- |
| 1 Hour | $70 |
| 1 Hour 5 Series | $315 |
| 1/2 Hour | $45 |
| 1/2 Hour 5 Series | $205 |
Instructor: Scott Hogan, PGA, TPI Certified, K-Vest Certified
Phone: 815-354-0366
Scott's coaching programs have been revolutionary to students. His E.P.I.C. junior programs produced 19 tournament wins in the summer of 2016, and 100% of his juniors have received college golf scholarship offers. Scott also is the Head Coach at Mother McAuley High School where his team of 30 players averaged an 8 shot improvement in one year. Scott also is the director of Player Development at Governor's State University where in his first season, the team recorded their first under par round and school record scoring. Scott has also helped Adults shoot their lowest scores ever. Adults in his program have dropped as many as 72 shots in only 8 weeks!
Although, not his number one goal, Scott's work has begun to be recognized on a national level. In 2014, the GRAA named him one of their Top 50 Teaching Professionals and in 2016 US Kids awarded him the Honorable Mention for their own Top 50 Teaching Professional Award. To learn more about Scott's programs, contact him directly or visit the links below!


Private Lesson Rates:
| | |
| --- | --- |
| 1 Hour | $115 |
| 1/2 Hour | $65 |
| 5 Hour Package | $525 |
| 10 Hour Package | $1000 |